Noted economist Austan Goolsbee was just appointed to lead the Presidents Counsel of Economic Advisors. In 2009, he was named Funniest Celebrity In Washington.
While Goolsbee may have a great TV presence and is obviously an accomplished and humorous speaking professional…
As far as stand-up comedy goes, it is blatantly clear he can only generate open mic laugh levels.

I found an online video of Austan Goolsbe attempting to perform stand-up comedy at the Washington D.C. Improv earlier in 2010 and decided to do an evaluation of this performance using Comedy Evaluator Pro.
Here's the video and my comments follow:
Here are my comments:
1. It's obvious to me that Goolsbee is a seasoned speaker, with great confidence in front of audiences. He is also likable, which makes his stand-up comedy material palatable.
Certainly more polished than this open mic comedian attempting to deliver a really bad lecture at the same comedy club.
2. Goolsbee was performing at a less than 10 PAR Score (average of less than 6 seconds of laughter per minute). This is open mic level stand-up comedy.
Hint: Ritch Shydner in I Am Comic scored higher.
3. The set-ups in this material were extraordinarily long with minimal payoff as evidenced by Comedy Evaluator Pro.
4. I have done enough professional speaking to know that had this presentation been given at a luncheon or other meeting, he would have slayed as the speaker.
This video is a great example of how much less laughter is required to entertain a speaking audience than a stand-up comedy audience.
Related article: The Difference Between Comedy Speeches And Stand-up Comedy
You'll notice I didn't get into evaluating the content of the stand-up comedy material delivered by Goolsbee in the video.
That's because…
In stand-up comedy, it's about generating headliner level laughs (18+ seconds of laughter per minute), no matter what the content or delivery style may be.
Note: I didn't set the standards for headliner level performances.
I certainly think Austan Goolsbee has what it takes to slay as a stand-up comedian (peel down those loooooog set-ups!).
But as far as stand-up comedy goes, I think it best that he hold on dearly to that day job. 🙂
---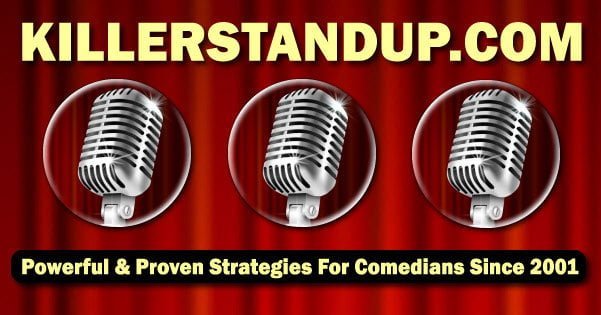 Do your friends think you're funny? Have you thought seriously about becoming a pro comedian? If that describes you, you might want to take a very close look at what this website has to offer that can dramatically improve your chances of success.
---