On a regular basis I get an email from a novice "joke writer" that goes something like this:
I have been writing jokes for a while and I believe they are funny. How do I go about selling these jokes?
Let me cut right to the chase:
There is much more involved with trying to sell jokes or other stand-up comedy material to comedians than most folks care to try to comprehend.
Because of that, most people don't really have much of a chance at getting paid in that regard unless they actually know what they are doing when it comes to writing comedy material for a comedian and have a solid plan to overcome some of the issues involved with getting started.
Note: For a better understanding of the information that follows, you may want to review audio episode 10 in the Stand-up Comedy Secrets For Beginners series.
First, I will discuss some of the problems you will encounter. Then I will provide some recommendations on how to overcome these problems quickly.
Problem #1
Many people who want to sell jokes have this vision that they can sit in the safety and comfort of their home and crank out generic, paper written jokes that they hope to get paid for.
The problem with that is that they don't have any credibility. By that I mean that they have never been on stage as a comedian so they really don't have so much as clue as to what stand-up comedy is really all about.
Note: Simply having spent time watching recordings of comedians perform is not enough to give any comedian any sort of assurance that you actually know what you are doing when it comes to writing or producing stand-up comedy material that will actually generate laughs.
In other words, unless someone has actual experience as a comedian or as a comedy writer for some other live performing art, they have zero credibility.
Most people who are able to sell jokes or other stand-up comedy material are already accomplished comedians who can demonstrate their ability to get laughs with their own stand-up comedy material and if they desire to expand upon that, demonstrate their ability to produce stand-up comedy material for other comedians.
That is what gives them the credibility they need to get paid to "write" for other comedians.
Problem #2
No professional comedian or comedy entertainer is going to buy "generic" jokes from anyone as a general rule.
Why?
Because each comedian has their own unique sense of humor, attitude, demeanor, delivery style, perspective, etc. that makes what they have to say and express to an audience generate the laughs they want.
"Generic", paper written jokes do not account for these critical laughter generation factors because they are "written" from the sense of humor perspective of the person "writing" the jokes, not the comedian they want to sell the jokes to.
While comedians tend to talk about the same things overall, what makes a comedian's material original is usually their personal experiences, points of view and the expression unique to that comedian.
So unless you can incorporate those personalized aspects into the "jokes" or comedy material you are trying to "write", you will have a difficult time at best trying to sell jokes that were simply written in a vacuum.
---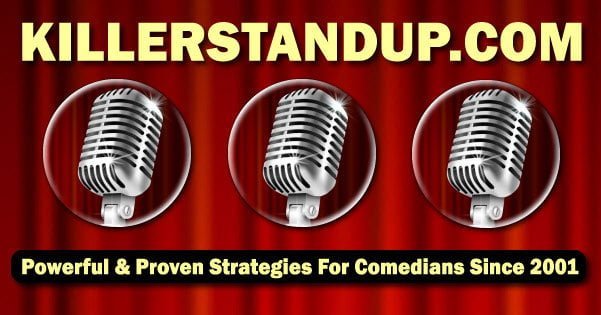 Do your friends think you're funny? Have you thought seriously about becoming a pro comedian? If that describes you, you might want to take a very close look at what this website has to offer that can dramatically improve your chances of success.
---