If you are brand new to stand-up comedy, here are two resources you should take a close look at that are available from ComedyUniversity.com:
Stand-up Comedy Secrets For Beginners Downloadable Audio Series. This question-and-answer style audio series has been created to provide rock solid, foundational information covering a wide variety of topics that every new comedian should be familiar with such as:
Developing stand-up comedy material for the stage
Overcoming stage fright
Dealing with hecklers
The basics about comedy open mics
What you need to know about stand-up comedy audiences
Performance levels every comedian should reach
Factors that can directly influence a comedian's progress
And a whole lot more — this series offers 10 hours of fast paced, experienced laced, detailed, no-punches-pulled information that every new comedian should have access to.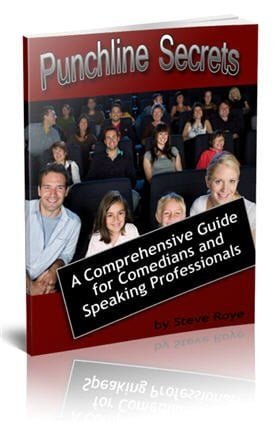 Punchline Secrets. This one-of-a-kind breakthrough guide is designed to provide individuals with solid information about one of the most important aspects of making audiences laugh big – the punchlines, such as:
The differences between trying to "write" comedy material from thin air and structuring what you want to say and express to an audience that generates laughter
Set-up lines and punchlines are completely redefined to reflect your sense of humor when developing comedy material for the comedy stage or public speaking podium
The most critical factor for being able to produce punchlines for comedy material quickly and easily
Where the laughter power of a punchline really comes from and how you can capitalize on it
And this is just the beginning…
The bottom line: Armed with the proper knowledge, you can have a SIGNIFICANT advantage over others trying to make headway as comedian.