One of the things that every comedian must have if they want to generate big audience laughter is confidence.
Here's why I say that:
Audiences know – either on a conscious or subconscious level when a comedian is confident and when they are not and will respond (or not respond) accordingly.
Confidence as a comedian is learned based on two primary aspects – advanced preparation and experience, both of which are related to each other.

Let's talk about advanced preparation first.
---
---
Everyone remembers a time in school when they knew they had a big test to study for, but for whatever reason they failed to study.
Then when it's time to take the test, they know they are not prepared and have no confidence in their ability to do well. And the results tell the tale.
Stand-up comedy is no different in that regard.
Most new comedians are less than adequately prepared to deliver a tight, well-structured stand-up routine.
They don't have much confidence in the process they use to develop their stand-up comedy material to begin with.
This is mostly due to the fact they are working primarily with words and sentences on paper that are designed to be "read" by one person instead of verbally expressed to a group of people in person (the difference is HUGE).
When this sort of "writing" process is used, there is a massive amount of second guessing about what is actually funny or not, leading to an increased amount of trial and error.
To make matters worse, they don't rehearse or don't even know how to properly rehearse to get maximum laughter response even if the stand-up comedy material they developed is solid.
Ultimately, they hit the stage without much confidence at all, which creates a less than optimal environment to generate laughs.
This situation is very much similar to not being prepared to take a test.
The amount of proper preparation that a comedian engages in then directly impacts the experience they have on stage — and whether or not that experiences develops confidence or reinforces a lack of it.
Now, let's talk about confidence as it relates to experience…
Confidence is learned from having a positive experience, then having repeat episodes of the same positive experience with consistency.
---
---
This applies to most anything in life, whether it involves cooking, repairing a car or stand-up comedy.
Needless to say, proper preparation and actually knowing what you are doing BEFORE you hit the stand-up comedy stage is critical to having experiences on stage (getting the big laughs) that will bolster your confidence on a performance-by-performance basis.
As I have said before, there is much more involved in developing and delivering stand-up comedy material that actually works than meets the eye.
So if you want to know why folks who use and apply the information in the Killer Stand-up Online Course have such a great advantage and tend to progress far faster than other comedians…
Now you know just one of the important reasons why.
---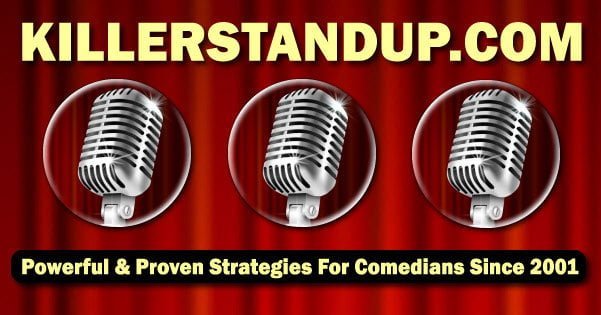 Do your friends think you're funny? Have you thought seriously about becoming a pro comedian? If that describes you, you might want to take a very close look at what this website has to offer that can dramatically improve your chances of success.